Medicare Supplement Insurance
Medicare supplement insurance, typically called Medigap Insurance, covers deductibles, coinsurance, and copayments that Original Medicare does not cover.
What is Medicare Supplement Insurance?
Original Medicare (Part A + Part B) is a great health insurance plan, but did you know it doesn't cover some essential medical costs? The best way to compensate for the gaps is by enrolling in Medicare Supplement Insurance, which will ensure adequate coverage.
Medicare Supplement Insurance or Medigap Policies are insurance plans that offer additional benefits and bridge the costs gaps that the Original Medicare doesn't cover. These plans can cover a range of costs, such as:
Copays
Deductibles and Coinsurance
Hospital Stays
Doctor Visits
Which Medigap Plan to Choose?
Some Medicare supplement plans also offer savings on Part A & Part B deductibles associated with Original Medicare, all the more reason to buy it. The good news is that our licensed agents at Meta Senior Insurance can educate and recommend the perfect Medicare Supplement Insurance plan that provides the necessary coverage and minimize your out-of-pocket medical costs.
So, get the best Medicare Supplement Insurance Plan to fund the remaining cost not paid by Original Medicare Part A and B.
We recommend Plan G, Plan N, or Plan F (*if you qualify).
*

Plan F is available only to individuals who became eligible for Medicare before January 1'st, 2020.
If you are Medicare-eligible after January 1, 2020, then Plan G or Plan N will be your best option. If you have a Medigap plan or Medicare Supplement, it pays after Medicare to help cover your deductibles, copayments, and coinsurance that Medicare does not cover. Medigap plans are designed not to replace Medicare Part A and Part B but to fill up the gaps left by your Original Medicare plan.
Medicare Supplement Plans do not cover these medical expenses:
Routine dental, vision, and hearing exams
Hearing aids
Eyeglasses or contacts
Long-term care or custodial care
Retail prescription drugs
Conclusion
We hope you enjoyed our brief overview on the basics of the Medicare Supplement Insurance Plan. To recap, a Medicare Supplement is a type of insurance you can purchase to cover the gaps in Original Medicare. It is also called a Medigap Plan. There are many things to know about this type of Medicare supplemental insurance, and we hope that this introductory article was able to help you understand some of the basics. Whether you are new to Medicare or have previously purchased a Medicare Supplement Insurance plan, we hope you can have peace of mind and feel confident in your coverage! If you have any questions, we would love to hear from you!
You can contact us to learn more about Plan G and Plan N, get a free quote, and compare your options. Please call us at 603-696-4394 or 1-833-META-T65 for a free comparison of your Medigap options.
Medigap Plan Comparison Chart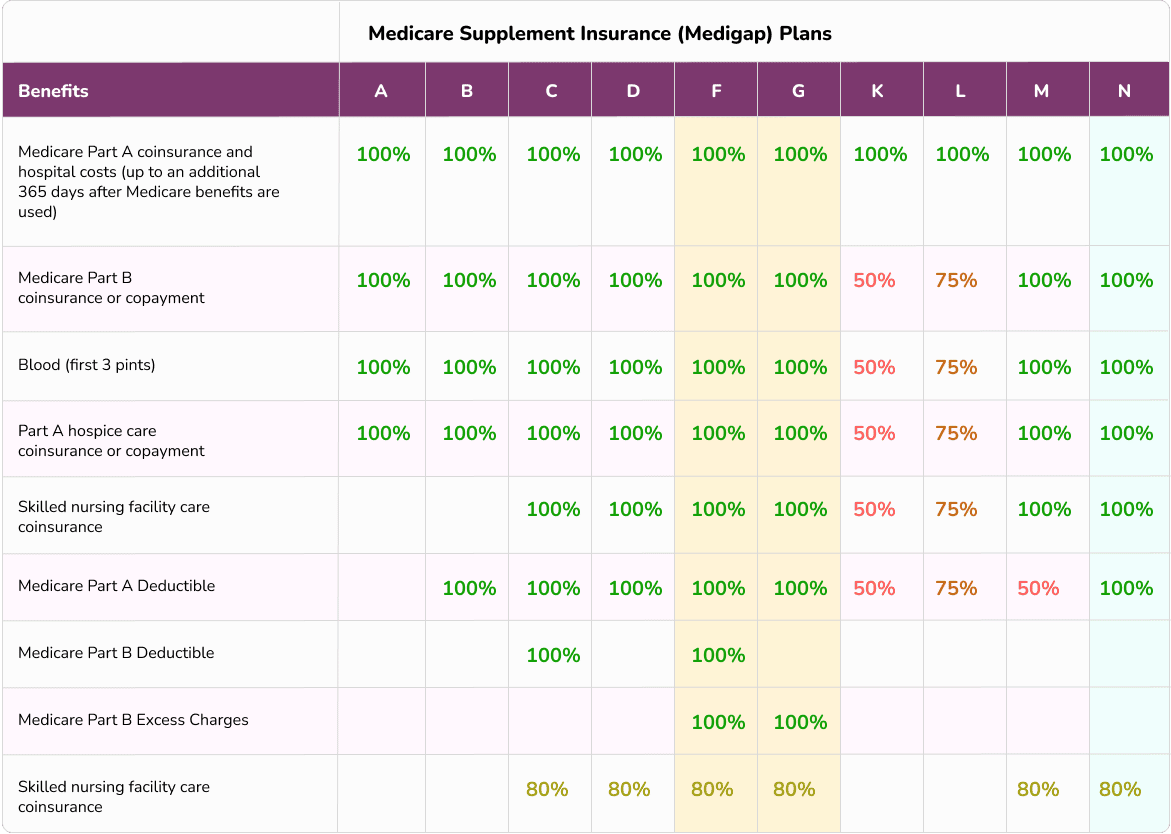 Medicare Supplement Insurance